Molex Right Angle, Through Hole, Socket Type B 2.0 USB Connector
RS stock no.:

515-2005P

Mfr. Part No.:

54819-0519

Manufacturer:

View all USB Connectors
---
5930 Available from UK/Europe in 4–6 working days for collection or delivery to major cities
(Heavy,
hazardous or lithium product excluded. Delivery T&C's apply)
Price (Excl VAT) Each (Supplied in a Box)
| | |
| --- | --- |
| units | Per unit |
| 125 - 370 | R 40.164 |
| 375 - 995 | R 38.96 |
| 1000 - 1995 | R 37.402 |
| 2000 + | R 35.906 |
RS stock no.:

515-2005P

Mfr. Part No.:

54819-0519

Manufacturer:
COO (Country of Origin):

CN
Legislation and Compliance
COO (Country of Origin):

CN
---
Product Details
USB On-The-Go (OTG)
These Molex range of USB OTG (On-the-Go) connectors are compatible with the On-The-Go supplement (Rev. 1.0) to the USB 2.0 specification. The needs of various portable and mobile equipment are met by these Molex OTG USB connectors by operating at speeds up to 480 Mbps coupled with a compact light-weight design.

Ranging from male to female, the mini USB connector also comes in USB types A, AB B and Mini B. They feature a 5-pin pitch, this reduces the mounting space required making them very versatile.
Features and Benefits
• They are about one-eighth the size of a standard USB-B connector Excellent RFI/EMI performance.
• 5-pin design (one ID pin).
• Through-hole and SMT versions available.
• Cable assemblies available.
• Voltage Rating of 30V.
• Current Rating of 1A.
• Expected Life Cycles are 5000.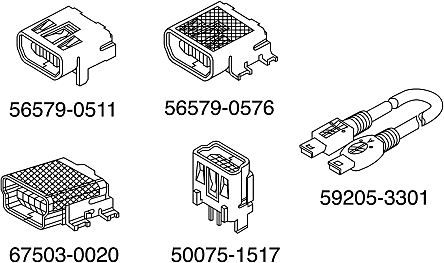 Molex Right-Angle Socket Type B 2.0 USB Connector, 30V Voltage Rating, 1A Current Rating - On-The-Go Series - 54819-0519
Connect USB cables to your computers, scanners and printers with this robust connector from Molex. It's a socket-type adapter that has highly conductive copper alloy contacts to ensure a reliable link. Thermoplastic housing resists high temperatures, so it's suitable for use in harsh industrial environments. You can install this connector either using through-hole or surface-mount technology, so it's a versatile choice to fit your design specifications. It's shielded to prevent electromagnetic interference, giving you clear and noiseless signal transmission.
• Wide operating temperature range of -20°C to +85°C for use in challenging settings
• Current rating of 1A for energy efficiency and low heat dissipation
• Light weight of 0.57g for easy handling and minimal strain on equipment
• Gold plating to prevent rust and support long-term performance
• Polarised to mating part to prevent mismating
Applications
• Audio interfaces
• Industrial machinery
Is this connector flame-resistant?
The connector stops burning within 60 seconds in the event of a fire. This makes it flame-resistant and safe to use in potentially hazardous conditions.


---
Specification
| | |
| --- | --- |
| Attribute | Value |
| Gender | Female |
| Mounting Type | Through Hole |
| USB Type | B |
| Termination Method | Solder |
| USB Version | 2.0 |
| Body Orientation | Right Angle |
| Current Rating | 1.0A |
| Voltage Rating | 30.0 V |
| Series | On-The-Go |
| Series Number | 54819 |
| Contact Material | Copper Alloy |
| Minimum Operating Temperature | -20.0°C |
| Maximum Operating Temperature | +85°C |
5930 Available from UK/Europe in 4–6 working days for collection or delivery to major cities
(Heavy,
hazardous or lithium product excluded. Delivery T&C's apply)
Price (Excl VAT) Each (Supplied in a Box)
| | |
| --- | --- |
| units | Per unit |
| 125 - 370 | R 40.164 |
| 375 - 995 | R 38.96 |
| 1000 - 1995 | R 37.402 |
| 2000 + | R 35.906 |