Omron PCB Mount Power Relay, 5V dc Coil, 10A Switching Current, SPDT
RS stock no.:

369-466P

Mfr. Part No.:

G5LE-1 5DC

Manufacturer:

View all Power Relays
---
291 Available from UK/Europe in 4–6 working days for collection or delivery to major cities
(Heavy,
hazardous or lithium product excluded. Delivery T&C's apply)
Price (Excl VAT) Each (Supplied in a Box)
| | |
| --- | --- |
| units | Per unit |
| 25 - 49 | R 33.95 |
| 50 - 99 | R 32.93 |
| 100 - 249 | R 31.61 |
| 250 + | R 30.35 |
RS stock no.:

369-466P

Mfr. Part No.:

G5LE-1 5DC

Manufacturer:
Legislation and Compliance
---
Product Details
G5LE Series
Subminiature 'sugar cube' format
Ideal for control circuit applications
High current switching capacity
Withstands impulse of up to 4500V
Dimensions; L22.5xW16.5xH19 mm
Approvals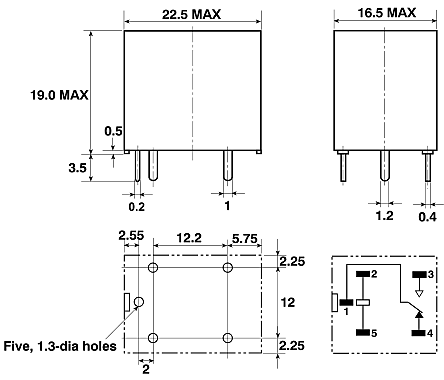 G5LE-1 5DC Cubic Single Pole PCP Power Non-Latching Relay.
The Omron Power Non-Latching relay can be used in a number of applications including home equipment, vending machines and OA equipment. The miniature relay is often referred to as the "ice cube" relay due to the relays size and shape. Pre-soldered terminals, high switching power up to 10 A, PCB terminals and flux protection are among many of the included benefits of this relay.
Features and Benefits.
• Cubic "Ice Cube" relay.
• Universal terminal footprint.
• SPDT (1c) contact.
• Flux protection
• 1-Pole.
• Rated coil voltage 5 V dc.
Relay Coil Ratings.
• Rated current 79.4 mA.
• Coil resistance 63 Ω.
• Must operate voltage 75% max of rated voltage.
• Max voltage 130% of rated voltage at 85°C, 170% pf rated voltage at 23°C.
• Approx power consumption of 400 mW.
Contact Rating.
• 10 A at 120 V ac, 8 A at 30 V dc.
• Rated carry current 10 A.
• Switching voltage max 250 V ac, 125 V dc (30 V dc when the standard UL/CSA is applied).
• Switching current max AC is 10 A, DC is 8 A.
• Switching power max 1200 VA, 240 W.
• Permissible load min is 100 mA at 5 V dc.
Relay additional features.
• Contact resistance 100 mΩ max.
• Dielectric strength 2000 V ac, 50/60 Hz (1 minute between coil and contacts), 750 V ac, 50/60 Hz (1 minute between contacts of the same polarity).
• Vibration resistance destruction and malfunction 10 to 55 Hz, 1.5 mm double amplitude.
• Shock resistance destruction 1000 m/s², malfunction 100 m/s².
• Ambient operating temperature -40°C to 85°C, no icing.
• Relay approx. weight 12 g.
---
Specification
| | |
| --- | --- |
| Attribute | Value |
| Coil Voltage | 5V dc |
| Contact Configuration | SPDT |
| Mounting Type | PCB Mount |
| Switching Current | 10A |
| Number of Poles | 1 |
| Latching | No |
| Terminal Type | PCB Pin |
| Coil Resistance | 63Ω |
| Length | 22.5mm |
| Depth | 16.5mm |
| Series | G5LE |
| Height | 19mm |
| Maximum Switching Power DC | 240 W |
| Application | Power |
| Maximum Switching Power AC | 1.2 kVA |
291 Available from UK/Europe in 4–6 working days for collection or delivery to major cities
(Heavy,
hazardous or lithium product excluded. Delivery T&C's apply)
Price (Excl VAT) Each (Supplied in a Box)
| | |
| --- | --- |
| units | Per unit |
| 25 - 49 | R 33.95 |
| 50 - 99 | R 32.93 |
| 100 - 249 | R 31.61 |
| 250 + | R 30.35 |