RS stock no.:

490-1238

Mfr. Part No.:

ET-017-08-15-RS

Manufacturer:
View all Peltier Modules
---
288 Available from UK/Europe in 4–6 working days for collection or delivery to major cities
(Heavy,
hazardous or lithium product excluded. Delivery T&C's apply)
| | |
| --- | --- |
| units | Per unit |
| 1 - 24 | R 765.67 |
| 25 - 99 | R 746.53 |
| 100 - 249 | R 724.13 |
| 250 - 499 | R 695.16 |
| 500 + | R 667.35 |
RS stock no.:

490-1238

Mfr. Part No.:

ET-017-08-15-RS

Manufacturer:
Legislation and Compliance
COO (Country of Origin):

CN
---
Product Details
Thermoelectric Cooler Modules, Adaptive
The Thermoelectric modules utilise the Peltier phenomenon principle to pump heat when voltage is applied.
Effective cooling power from mW to a hundred of Watts
Max hot side temperature Th = 90°C for best long term performance
Modules can be bonded using heat sink bonder
Applications in refrigeration and power generation
Silicone sealed options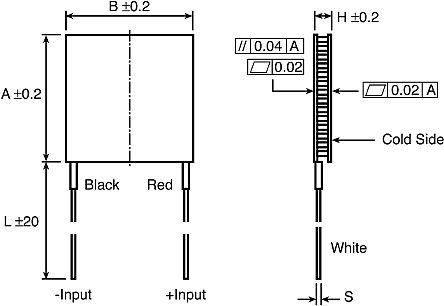 Thermoelectric Modules - Peltier Effect


A range of semiconductor thermoelectric devices working on the Peltier effect. When supplied with a suitable electric current, they can either cool or heat. When subject to an externally applied temperature gradient these devices will generate a small amount of electrical power.The larger devices can be used for cooling or controlling the temperature of sub-assemblies. The small size of the mini module makes it ideally suited for cooling miniature electronic components such as infra-red detector chips, microwave IC's, fibre-optic lasers and detectors.,Alternatively, it may be used to minimise the effects of temperature coefficients on oscillator stability, reference voltages, amplifier offsets etc. by providing temperature control.


Solid-state long term stability
Generates no acoustic noise
---
Specification
| Attribute | Value |
| --- | --- |
| Maximum Cooling Capacity | 2.9W |
| Maximum Temperature Difference | +74K |
| Maximum Current | 2.2A |
| Maximum Voltage | 2.1V |
| Active Area | 9 x 9mm |
| Active Area Length | 9mm |
| Active Area Thickness | 3.8mm |
| Active Area Width | 9mm |
288 Available from UK/Europe in 4–6 working days for collection or delivery to major cities
(Heavy,
hazardous or lithium product excluded. Delivery T&C's apply)
| | |
| --- | --- |
| units | Per unit |
| 1 - 24 | R 765.67 |
| 25 - 99 | R 746.53 |
| 100 - 249 | R 724.13 |
| 250 - 499 | R 695.16 |
| 500 + | R 667.35 |