Han D Female 10A Crimp Contact for use with Heavy Duty Power Connector
RS stock no.:

363-7841

Mfr. Part No.:

09150006205

Manufacturer:

Image representative of range
View this category
---
6600 Available from UK/Europe in 4–6 working days for collection or delivery to major cities
(Heavy,
hazardous or lithium product excluded. Delivery T&C's apply)
Price (Excl VAT) Each (In a Pack of 50)
units
Per unit
Per Pack*
50 - 700
R 19.654
R 982.70
750 - 2450
R 19.162
R 958.10
2500 +
R 18.587
R 929.35
*price indicative
RS stock no.:

363-7841

Mfr. Part No.:

09150006205

Manufacturer:
Legislation and Compliance
---
Product Details
Han-Com®, Han D®, Han DD® and Han® E Crimp Contacts
A range of high quality turned crimp contacts for Han-Com®, Han D®, Han DD® and Han® E inserts. The appropriate parallel action crimp to tool is also available for optimum crimp quality, as is the appropriate service crimp tool.
Features & Benefits
• The parallel action crimp tool offers optimal crimp quality and features a rotating locator. See stock number 114-7706.
• For service and small assembly, the service crimp tool is offered complete with locator. See stock number 313-6607.
Product Application Information
The Han-Com combination connectors are industrial connectors designed for providing power and signal contacts in one insulation body. The Han-Q Series are connector inserts with a compact design, while the Han D/DD/DDD series are connectors built for high pin count interconnect applications.
Note
Han-Com® inserts have mixed power and signal formats. A typical identifier is '4//2' which means there are 4 power contacts and 2 signal contacts. The current rating is different for each type of contact within a particular insert.
Warning
These connectors should not be mated or unmated under electrical load. Connectors of the same or different types arranged in a line should be polarised to prevent the possibility of wrong connection.
Approvals
UL, CSA, SEV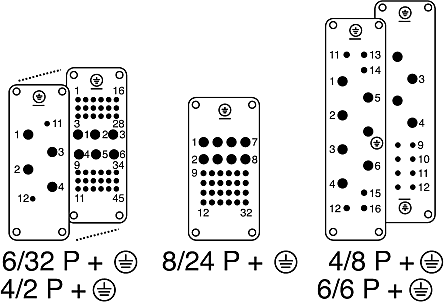 Han-Com® Signal & Power (Crimp and Screw)


These Han- Com® inserts are available in current ratings from 10A to 100A. They are intended for use typically with hoods and housings; RS stock Nos. 181-0561, 181-0741, 181-0785, 363-8535, 363-8585 and their associated ranges. These hood and housing ranges are associated to a specific Harting 'Size' number identifier
---
Specification
| | |
| --- | --- |
| Attribute | Value |
| Series | Han D |
| Accessory Type | Crimp Contact |
| For Use With | Heavy Duty Power Connector |
| Range | Han CD, Han Com, Han D, Han DD, Han DDD, Han Q |
| Voltage Rating | 250 V |
| Current Rating | 10A |
| Gender | Female |
6600 Available from UK/Europe in 4–6 working days for collection or delivery to major cities
(Heavy,
hazardous or lithium product excluded. Delivery T&C's apply)
Price (Excl VAT) Each (In a Pack of 50)
units
Per unit
Per Pack*
50 - 700
R 19.654
R 982.70
750 - 2450
R 19.162
R 958.10
2500 +
R 18.587
R 929.35
*price indicative